All the Sri lankan are very busy on Fuel Pass Register.'ALREADY REGISTERED USER', 'mobile number not found' "vehicle number and chassis number mismatch". are mostly getting error.
This is the very common error most of the users are getting. but so far this error message is caused by a main reason.
If you are getting 'mobile number not found' I think you have to do a re-register on the website again. You can check the below SMS as the confirmation.
You now contact ICTA if you have any problems with registration.
Update of Fuelpass gov lk on 20th July 2022
Update 1 :ICTA Send Messages to some users to Re-Register the National Fuel Pass Online Registration.
Update 1 : Registration for New Users are not allowed now and you have to wait for the more update.
Update of Fuelpass gov lk on 18th July 2022
National Fuel Pass New Registration Currently Disabled for new users registration.
Update of Fuelpass gov lk on 17th July 2022
If you are entering the Old Vehicle Number like 500 – 3434 or ශ්‍රී SRI type Vehicles.
Update : Dash and Sri Number Error Fixed Now.
Vehicle registrations with "Sri –" to only enter the vehicle number in columns

Ex: 3 Sri -1234 === 3 1234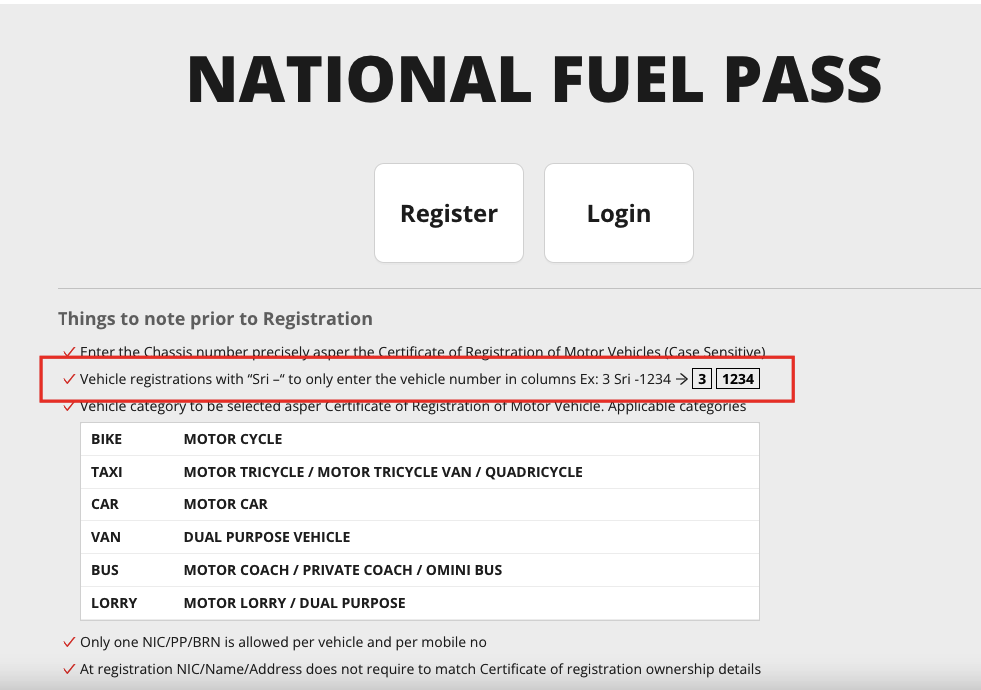 Other wise if you are with New Vehicle Number and getting this type of error message. please wait and try after few hours.